Riverfront Walk - A guided history experience!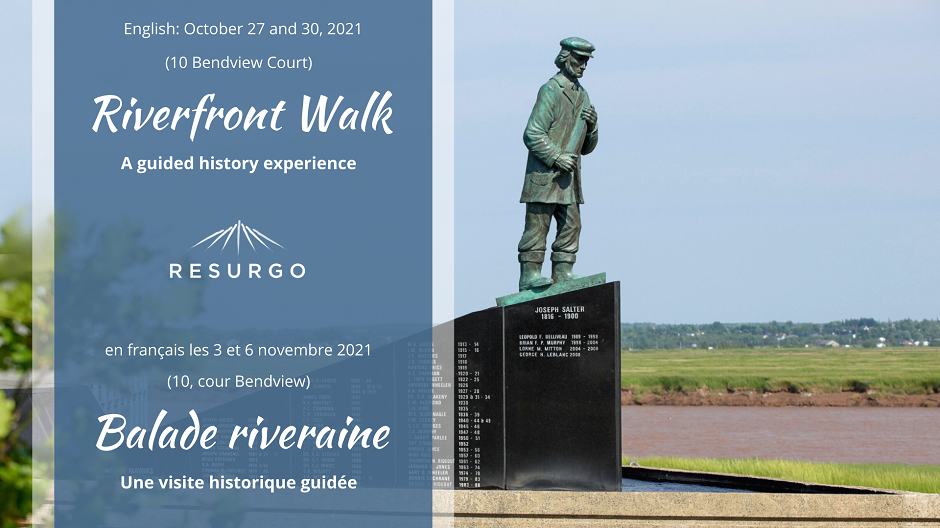 Resurgo Place is developing a whole new riverfront program and we want you to be our critics! 

This fall, join us for a journey through time as we walk along the historic Petitcodiac River. Commemorative monuments and sites along the path will help guide the experience, exploring the various peoples and cultures that have contributed to our local history. After the stroll, we'll invite you to share your impressions with us so that we can improve the program before its official launch next summer.

🗺️ Departure: Moncton 100 Monument in Bore Park, 10 Bendview Court  
👣 Distance: approx. 2 kms (return)
⏱ Duration: 1 hour

DATES:

   • Wednesday, October 27, 2021 at 2 pm (ENGLISH)
   • Saturday, October 30, 2021 at 2 pm (ENGLISH)
   • Wednesday, November 3, 2021 at 2 pm (FRENCH)
   • Saturday, November 6, 2021 at 2 pm (FRENCH)

REGISTRATION (FREE):
Please call (506) 856-4327 or email info@resurgo.ca to register! 
Maximum of 10 participants per tour. Physical distancing is encouraged. 
 
---
Doors Open - Virtual Tours!
Let's celebrate Moncton's rich architectural history! 🏛❤🎬
As part of the second-annual Moncton Heritage Week, this year's virtual edition of DOORS OPEN highlights a selection of four remarkable heritage properties, offering participants a unique "behind the scenes" experience.
▶ If you missed the video premieres in September, no sweat! The clips will remain available to watch on our YouTube channel.   

This year's locations (click on links to watch):

🗝 Free Meeting House (20 Mountain Road)
🗝 Elmwood Cemetery (200 Elmwood Drive)
🗝 Aberdeen Cultural Centre (140 Botsford Street)
🗝 Mackenzie House (91 Steadman Street)